The MaxBat Red-Line Series
(July Sale Updated 7-14-09)
More Bats just came in!
Made from the same high density rock maple that goes into all of their pro models, the MaxBat Red-Line series offers players an alternative bat for 2009. The Red-Line consists of bats that simply didn't pass the stringent MaxBat quality control standards, and are available to you at a significant discount. What determines if a bat belongs in the Red-Line series:
Weight - bat might exceed requested weight at time of production.
Dimensions - handle diameters might be out of tune by 1/32" - 1/16" on specific models.
New models - as more pros ask for adjustments in profile designs, it might take 2 or 3 tries to get it just right.
Bats in the Red-Line series have been hand selected for shape and feel. Each bat has been thoroughly inspected to ensure that there are no visible defects in the wood and that it is game usable.
Bats are stained jet black and feature a Red MaxBat logo.
No model information is lasered into the barrel.
Models, lengths and weights vary.
MaxBat makes over 200 different models for the Professional Baseball Player; The Red-Line Series will have models that the regular consumer will never see.
For example The H176 is a model that Phillies OF's Jayson Werth and Shane Victorino use and order from MaxBat. The EC3 is a model we only make for Eric Chavez (A's) and Scott Moore (Orioles). The shape of the EC3 is very unique because it's basically a cylinder from knob to barrel end. Players love them because they're a really hard bat.
In the State of Minnesota if you want us to come to your team get together, game or practice to purchase bats? No problem, just contact us and a MaxBat Red-Line rep will travel to your destination. All we need is a $50.00 deposit upfront (payable via PayPal) before we come out. If your team buys 12 bats or more you will get $25.00 back.
How to order;
o Look over the inventory sheet & find the inventory number, length and weight
o Then contact via, phone, email or Skype and see if your preferred bat is still available.
o If your bat is still in inventory we will hold your bat and set up an arrangement for you to pick it up or for us to ship it to you upon payment.
o If you purchase a single order of 6 bats or more your cost per bat will be $50 per bat instead of $55.00, a huge savings! Plus you will get a Free pair of MaxBats batting gloves while supply last, which is an additional $30 savings!!
o For all Minnesota residents please add 6.5% sales tax to all orders.
o All sales are final and there are no refunds.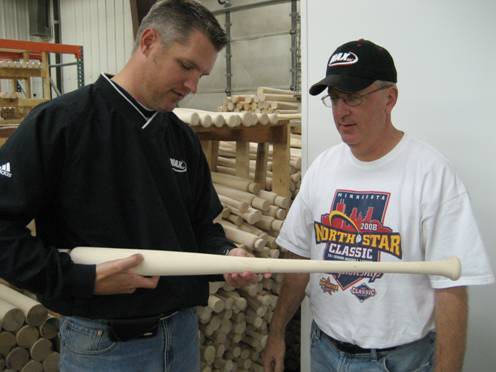 "Jim Anderson (Vice President of MaxBat) and Rich Ellis (MaxBat Red-Line rep)
Inspecting a potential BB2 model for the Red-Line series"
MaxBats Customer Inventory
Contact Rich Ellis at 763-537-4572 or 612-229-7202
Email; rich@dropthepucks.com
Skype; richard.ellis11
PayPal account; rich@dropthepucks.com
eBay seller name: docellis
Inventory #
Model
Ash or Maple
Length
Weight
Finished or Unfinished
Price
Sold
U9
R10
maple
33.5
33.5
unfinished
$ 50.00
U11
R10
maple
33.5
31.5
unfinished
$ 50.00
F15
356
maple
34
33.5
finshed
$ 65.00
F20
BR1
maple
33.5
32
finshed
$ 65.00
U22
M1350
maple
34
34
unfinished
$ 30.00
U24
2743
maple
34
34
unfinished
$ 30.00
U27
2743
maple
34
33.5
unfinished
$ 30.00
F30
174
maple
33.5
32
finished
$ 65.00
F40
MBX
maple
34
33.5
finished
$ 65.00
F41
243
Ash
34
27
finished
$ 30.00
F43
243
Ash
34
33
finished
$ 30.00
U48
243
Ash
34
32
unfinished
$ 25.00
U50
243
Ash
34
29
unfinished
$ 25.00
U52
243
Ash
34
32
unfinished
$ 25.00
U53
243
Ash
34
32
unfinished
$ 25.00
U54
243
Ash
34
37
unfinished
$ 25.00
U55
243
Ash
34
30
unfinished
$ 25.00
U56
243
Ash
34
32
unfinished
$ 25.00
U57
243
Ash
34
29
unfinished
$ 25.00
U60
243
Ash
34
29
unfinished
$ 25.00
U61
243
Ash
34
28
unfinished
$ 25.00
U62
243
Ash
34
27
unfinished
$ 25.00
U64
243
Ash
34
28
unfinished
$ 25.00
U65
243
Ash
34
28
unfinished
$ 25.00
U66
243
Ash
34
30
unfinished
$ 25.00
U67
243
Ash
34
29
unfinished
$ 25.00
U69
243
Ash
34
29
unfinished
$ 25.00
U71
243
Ash
34
28
unfinished
$ 25.00
The Red-Line Series
4
Unknown Pro
maple
32.5
34
Red-Line Finshed
$ 55.00
On hold
5
BR15 Millar
maple
33
33
Red-Line Finshed
$ 55.00
23
110
maple
34
33
Red-Line Finshed
$ 55.00
24
RH1
maple
33.5
34
Red-Line Finshed
$ 55.00
32
H176
maple
34.5
33
Red-Line Finshed
$ 55.00
37
EC3
maple
34
35
Red-Line Finshed
$ 55.00
38
EC3
maple
34
32
Red-Line Finshed
$ 55.00
39
Unknown Pro
maple
34.5
33
Red-Line Finshed
$ 55.00
41
EC3
maple
34
31
Red-Line Finshed
$ 55.00
43
110
maple
33.5
33
Red-Line Finshed
$ 55.00
44
EC3
maple
34
31
Red-Line Finshed
$ 55.00
45
Unknown Pro
maple
34
32
Red-Line Finshed
$ 55.00
46
H176
maple
34
33
Red-Line Finshed
$ 55.00
47
H176
maple
34
33
Red-Line Finshed
$ 55.00
51
EC3
maple
34
32
Red-Line Finshed
$ 55.00
54
EC3
maple
34
31
Red-Line Finshed
$ 55.00
55
EC3
maple
34
31
Red-Line Finshed
$ 55.00
56
EC3
maple
34
32
Red-Line Finshed
$ 55.00
57
EC3
maple
34
31
Red-Line Finshed
$ 55.00
61
C4
maple
35
33
Red-Line Finshed
$ 55.00
65
243
maple
35
32
Red-Line Finshed
$ 55.00
72
191
maple
32.5
29
Red-Line Finshed
$ 55.00
86
Unknown Pro
maple
34
33
Red-Line Finshed
$ 55.00
87
Unknown Pro
maple
34
32
Red-Line Finshed
$ 55.00
88
Unknown Pro
maple
34
32
Red-Line Finshed
$ 55.00
90
BR191
maple
34
33
Red-Line Finshed
$ 55.00
92
243
maple
34.5
31
Red-Line Finshed
$ 55.00
94
191X
maple
35
34
Red-Line Finshed
$ 55.00
101
Fungo
maple
Red-Line Finshed
$ 55.00
104
RH1
maple
34
33.5
Red-Line Finshed
$ 55.00
106
Unknown Pro
maple
33
30
Red-Line Finshed
$ 55.00
114
Unknown Pro
maple
32
30
Red-Line Finshed
$ 55.00
117
Unknown Pro
maple
33
30.5
Red-Line Finshed
$ 55.00
123
Unknown Pro
maple
34
31
Red-Line Finshed
$ 55.00
146
Milton Bradley
maple
33
33
Red-Line Finshed
$ 55.00
149
Mini Beast
maple
32
35
Red-Line Finshed
$ 55.00
159
Unknown Pro
maple
33.5
32
Red-Line Finshed
$ 55.00
160
Unknown Pro
maple
33.5
33
Red-Line Finshed
$ 55.00
161
191
maple
33.5
32
Red-Line Finshed
$ 55.00
162
191
maple
32
32
Red-Line Finshed
$ 55.00
163
271
maple
34
32
Red-Line Finshed
$ 55.00
164
141
maple
34
32
Red-Line Finshed
$ 55.00
165
356
maple
33.5
32
Red-Line Finshed
$ 55.00
166
118
maple
34
33.5
Red-Line Finshed
$ 55.00
167
B21
maple
34
32
Red-Line Finshed
$ 55.00
168
F123
maple
34
34
Red-Line Finshed
$ 55.00
169
C4
maple
33.5
32
Red-Line Finshed
$ 55.00
170
C4
maple
34
32
Matt Davidson UF
$ 55.00
171
C4
maple
34
32
Matt Davidson UF
$ 55.00
172
C4
maple
34
32
Matt Davidson UF
$ 55.00
173
AP5
maple
34
33
Matt Davidson UF
$ 55.00
174
AP5
maple
34
33.5
Matt Davidson UF
$ 55.00
175
191RH
maple
34
32
John Rodriguez UF
$ 55.00
176
191RH
maple
34
32
John Rodriguez UF
$ 55.00
177
191RH
maple
34
32
John Rodriguez UF
$ 55.00
178
191RH
maple
34
31.5
John Rodriguez UF
$ 55.00
179
191RH
maple
34
32
John Rodriguez UF
$ 55.00
180
191RH
maple
34
32
John Rodriguez UF
$ 55.00
181
191RH
maple
34
32
John Rodriguez UF
$ 55.00
182
191RH
maple
34
32
John Rodriguez UF
$ 55.00
183
191RH
maple
34
32
John Rodriguez UF
$ 55.00
184
191RH
maple
34
32
John Rodriguez UF
$ 55.00
185
191RH
maple
34
32
John Rodriguez UF
$ 55.00
186
191RH
maple
34
32
John Rodriguez UF
$ 55.00
187
356
maple
34.5
32.5
Rick Ankiel F/Black
$ 65.00
187
356
maple
34.5
32.5
Rick Ankiel F/Black
$ 65.00
187
356
maple
34.5
32.5
Rick Ankiel F/Black
$ 65.00
187
356
maple
34.5
32.5
Rick Ankiel F/Black
$ 65.00
187
356
maple
34.5
32.5
Rick Ankiel F/Black
$ 65.00